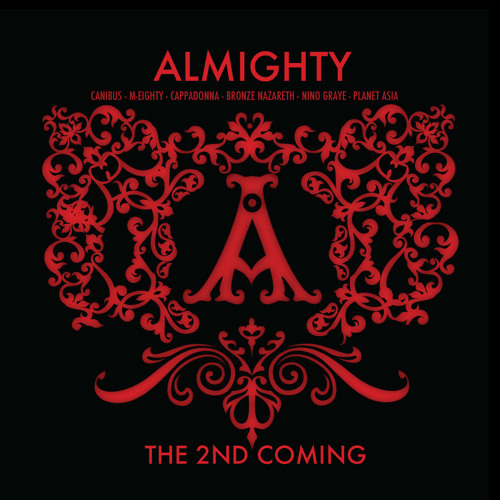 Damn, what a dope collaboration, lined with some serious hip hop heavy weights. Check out the new joint "High Price Shots" from Almighty featuring some ill shit from Vinnie Paz, Bronze Nazareth, Canibus and Planet Asia over a laid back beat laced by JP Beats.
Press Release:
On the brink of the
Wu-Tang Clan
's 20th Anniversary, the group, its individual members and its affiliates all have big plans for 2013 as Hip-Hop enthusiasts worldwide await a new golden era in rap ushered in by one of the best to ever do it.
The Almighty
returns where it left off in 2008 with the release of
"Original S.I.N"
( via
Babygrande Records
) with a new line up, a new group of guest features and producers all on a new record label.

The Almighty consists of its core presenters Canibus & JP Beats alongside the Wu-Tang affiliates Cappadonna, Bronze Nazareth & M-Eighty, West Coast Icon Planet Asia and Glass City newcomer Nino Graye.

The group's new LP, "The 2nd Coming," will be released in 17-Track physical format (for retail) as well as a 19-Track digital deluxe version. Both formats of "The 2nd Coming" LP will be released on on 8-13-2013 courtesy of RBC Records (formerly home to artists such as Techn9ne, E-40, Too Short, DJ Quik and many others).

The LP features guest spots from some of Hip-Hop's most elite emcees; including Crooked I, Kool G Rap, Busta Rhymes, Kurupt, Masta Killa, Vinnie Paz, Chino XL, Tragedy Khadafi and more. All these artists are backed with production from the albums mainframe JP Beats (Dr. Dre /The Academy/Undergods), Bronze Nazareth, Kevlaar 7, Domingo & the Rocksteady Crew's own DJ JS-1.
Links:
@DaRealCanibus
|
@vinnie_paz
|
@planetasia
|
@BronzeNazareth
|
@JPBeatsT3P
|
@RBCRecords