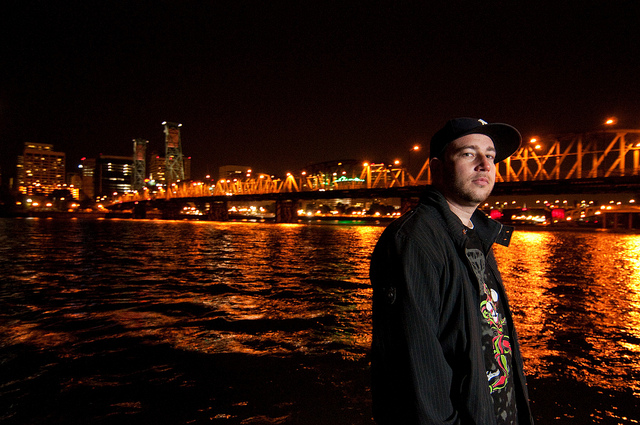 Gen.Erik (from Animal Farm) ft. DJ Wels- Dear Portland by AnimalFarm
July 21, 2011 - Portland, OR -- As the promising Hip-Hop group Animal Farm continues to increase their International buzz, Producer/MC Gen.Erik has decided to leave the group's Portland, OR home base in favor of New York City. The move is geared to expand the reach of Animal Farm, as well as Gen.Erik's Focused Noise Productions.
As a going away present, Gen.Erik is giving away a free song entitled "Dear Portland" which is an ode to the city where he made his musical mark and has called his home for over 10 years. In the clever song, Gen.Erik addresses Portland in an extended metaphor in which he painfully breaks off a relationship with the city he loves.
Gen.Erik also utilizes a number of references that are best associated with the City of Roses and home of the Blazers to tell his story. "Dear Portland" was also produced by Gen.Erik and features the precise DJ Wels, also from Animal Farm.
Download the song here:
Download the track
"Dear Portland" - Gen.Erik
Prior to Gen.Erik's departure, the Animal Farm crew decided to give the city of Portland another present, executing three recent surprise pop up shows in one day. Without prior warning, Animal Farm's Hanif Wondir, Serge Severe, Fury, Gen.Erik, DJ Wels, and B-boy Deff Ro pulled up to three unadvertised locations, jumped out of the back of a rigged up U-Haul, and proceeded to attract crowds who were magnetized to their high energy showmanship. The footage from these shows will soon be available. In the meantime, check out this entertaining trailer at http://youtu.be/74eME8O1fV0
Animal Farm's new album Culture Shock features Talib Kweli, Rob Swift, Abstract Rude, and DJ Wicked, and is currently #7 on the CMJ Hip-Hop College Radio Charts.
Culture Shock purchase link: http://itunes.apple.com/us/album/culture-shock/id434958715
Follow @AnimalFarmTeam and @Generik360 on Twitter
Facebook.com/AnimalFarmTeam
Gen.Erik's Going Away Party will be FREE at Ted's (Formerly Berbati's) in Portland.
Thursday, July 21st w/ L Pro Video Release, Animal Farm, Destro of Oldominion, Serge Severe, DJ Wicked, Theory Hazit, Level Headed, DJ Wels, and DJ Spark of Sandpeople.
Bonus: Animal Farm Interview with KevinNottingham.com:
http://kevinnottingham.com/2011/07/20/artist-spotlight-animal-farm/