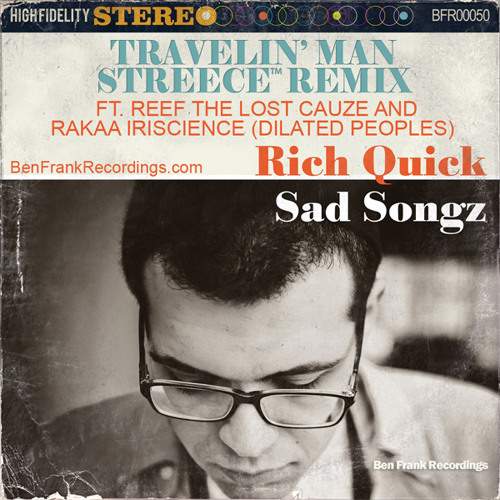 Born and raised in Woodbury New Jersey, in his high school years,
Rich Quick
was the co-founder of a hip-hop group appropriately named
"Rag Tag"
because of their diverse and disorderly composition.
In April 2012
Rich
released,
"I'm With The DJ"
, and while touring for the project and after a show,
Rich Quick
was approached by
Jeff Davis
aka
Stress the White Boy
.
Stress
and
Chuck Treece
, a powerhouse production duo referred to as
STREECE
(who have previously produced for Lil Wayne, The Roots, Gym Class Heroes, Travie McCoy, Tyga, Good Charlotte, Sting & Billy Joel among many others) and after hitting it off they began working with Rich on material that would eventually turn into his forthcoming
"Sad Songz EP"
which just on 8-20-2013.
This new joint is fresh!
"Travelling Man (Streece Remix)"
is from
Rich Quick
's new EP
"Sad Songz".
The new track features 1/2 of Dilated Peoples in
Rakka Iriscience
&
Reef The Lost Cauze
remixed by
STREECE
. Other notable collaborators on the "
Sad Songz"
EP include
Jakk Frost
&
Vinnie Paz
.
Connect:
RichMFNQuick.com
|
@RichMFNQuick
|
Facebook